BELINDA MA, CEO & FOUNDER, BMA GLOBAL SERVICES WINS SILVER STEVIE® AWARD IN 2015 STEVIE AWARDS FOR WOMEN IN BUSINESS
Women Around the World Recognized at Event in New York City
TAIPEI, TAIWAN – NOVEMBER, 18 – BELINDA MA, CEO & FOUNDER, BMA GLOBAL SERVICES has been named the winner of a Silver Stevie® Award in the Female Entrepreneur of the Year in Asia, Australia, or New Zealand category in the 12th annual Stevie Awards for Women in Business.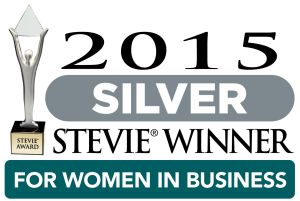 The Stevie Awards for Women in Business are the world's top honors for female entrepreneurs, executives, employees and the organizations they run. All individuals and organizations worldwide are eligible to submit nominations – public and private, for-profit and non-profit, large and small. The 2015 awards received entries from 31 nations and territories.
Nicknamed the Stevies for the Greek word for "crowned," the awards were presented to winners during a dinner event attended by more than 400 people at the Marriott Marquis Hotel in New York City.
More than 1,300 entries were submitted this year for consideration in more than 90 categories, including Executive of the Year, Entrepreneur of the Year, Company of the Year, Startup of the Year, Women Helping Women, and Women-Run Workplace of the Year, among others.
Winnie Hsu, Vice President of BMA Global Services, said "Last year, when Belinda introduced her 'Growth through Diversification' program, the whole team was so impressed that we nominated Belinda for this prestigious award." The program has had tremendous benefits for BMA and its clients, resulting in a 20% increase in revenues, and new client wins including Airbnb, Treasury Wine Estates and Bayer. The judges commented on a "great story [that] shares the journey of transforming the company", "impressive testimonials from clients and colleagues alike" and a "focus on nurturing more female leadership."
Stevie Award winners were selected by more than 160 executives worldwide who participated in the judging process this year.
"We are again humbled by the accomplishments of so many high-achieving women in this program," said Michael Gallagher, founder and president of the Stevie Awards. "Their work is an inspiration to girls and women around the world who dream of starting and growing a business, managing a leading company, or improving their community. We congratulate all of this year's Grand, Gold, Silver and Bronze Stevie Awards."
Asked about the award, Ms. Ma said "I was delighted when the team told me I was a finalist, but winning the Silver Stevie Award has been a fantastic validation of the work the team and I have done during the last year." Adding, "this is great motivation for all of us at BMA to keep pushing every day to provide our clients with the best possible service."
Details about the Stevie Awards for Women in Business and the list of Winners in all categories are available at www.StevieAwards.com/Women.