Last summer Instagram launched its first video feature; this past week Instagram launched Hyperlapse. Overall, marketers have embraced online video as a marketing tool adding it to their digital marketing toolbox. Consumers and the B2B marketplace can expect to see a lot more marketing type online videos in the years to come. Since 2011 marketers spending on digital/online video has more than double – it's only going to continue to grow. Here's a graph from eMarketer showcasing the increase in spend.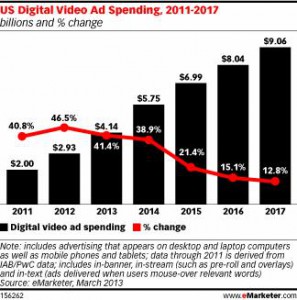 For the most part, good and effective marketing videos are typically reserved for companies with huge marketing budgets. That's because good, high quality, watchable video is expensive to produce (production, editing, scripting/storyboarding, etc.). People don't want to see long unedited shaky-hand videos, they just don't. Here's General Electric using the Instagram video feature to show off a water test on a jet engine.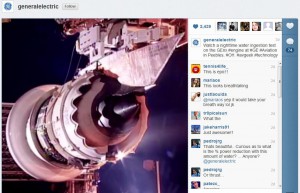 Hyperlapse is changing that. Hyperlapse enables users to create quick videos (10-45+ seconds) with a time-lapse look; time-lapse video is usually fairly costly. This makes Hyperlapse a huge boon for small business and Mom & Pop shops. These companies and business people can now make short professional looking videos; creating watchable videos in the 15 second online video sweet spot. For example, Mom & Pop restaurants can make quick cool looking "atmosphere" videos.
Here's is a look at an Instagram Hyperlapse video. http://youtu.be/7lTxRR38tbY?list=PLSKUhDnoJjYmGeQ1iy3tNC3j72ft5YZzJ
This video tool is really empowering – now get ready for even more videos in your social network newsfeeds.
Graph courtesy of eMarketer, via Marketing Land. Hyperlapse via Mashable.